Pink Cherry Cake with Fudge Frosting
This seriously decadent and flavorful Pink Cherry Cake with Fudge frosting is a showstopper! So delicious and always a hit with friends and family!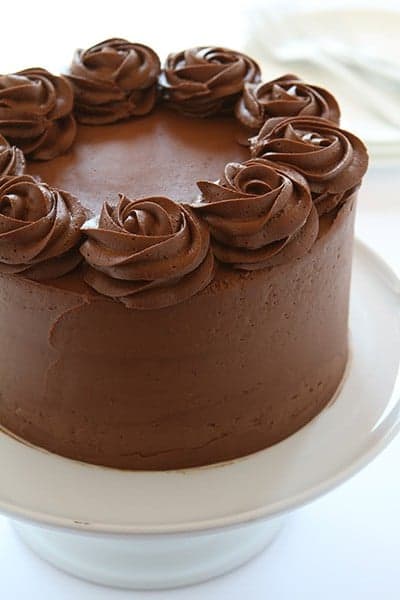 One thing you will love about this cake is the addition of cherries to the batter. There are not many so you can play with the amount depending on your preference, but I love how subtle it is. Every now and then a perfect little burst of cherry flavor delights your taste buds.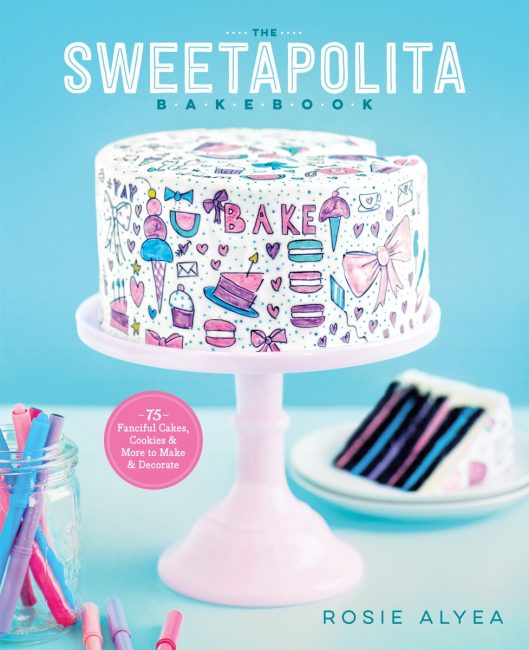 I have been waiting for this book for a long, long time. The amazing Rosie, the powerhouse of talent behindSweetapolita, is theQueen of Bakingin my mind. She wears so many hats; baker, decorator, photographer, stylist, writer, etc. and wears them allbeautifully.
Her book,The Sweetapolita Bakebookis nothing short of stunning.
I kid you not, every single page was better than the next. Her recipes are creative and oh so whimsical! I earmarked almost every page and cant wait to try out all her fantastic recipes.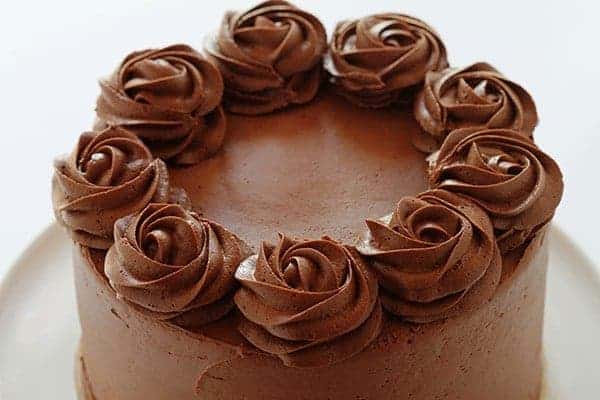 Youll notice that this recipe has a lot more ingredients than your average chocolate buttercream, but its worth it! One of the most powerful ingredients is the hot coffee. If you do not have coffee or prefer to not use it, you can substitute with hot water.
I also recommend added a milk chocolate and a dark chocolate that you like to eat. These beautiful chocolate flavors will shine through so you will want to use a good quality chocolate.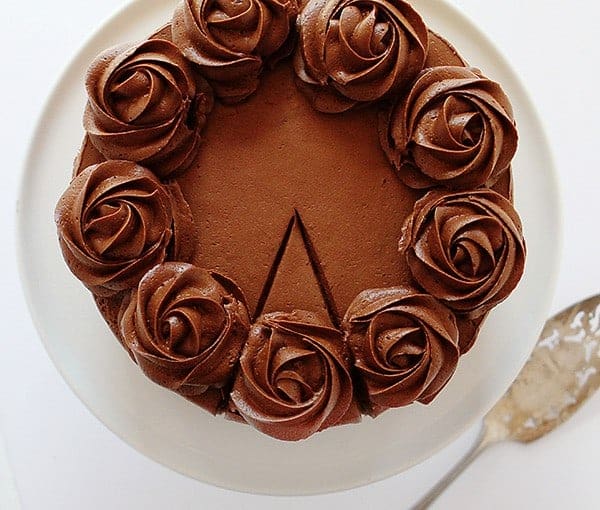 Everything about this cake was perfection.
The Fudge Frosting was a dream to work with; its silky texture seemed to glide effortlessly over the cake.
And just look at those rosettes! They piped out superbly. I think that is the first time I have used that word on my blog, but it definitely fits.
To make this cake I simply piped out rosettes around the top of the cake. I then went back and piped out another layer of rosettes directly on top of the original layer.
TIP: Make sure to end the rose on the inside of the cake so the outer edge is seamless and stunning!
I used Rosies Chocolate Fudge Frosting for in-between the layers and the exterior of the cake.
Lets talk about the recipe for a moment.The cold butter is genius.As Rosie instructs in her recipe, you should not overmix the batter once the chilled butter has been added. If your butter is too warm, it could make the cake too dense.
Both techniques ended up working beautifully and the texture of the cake batter seemed almost like silk. The way it folded over itself in ribbons of pink was mesmerizing!
Cherry Cake with Chocolate Fudge Frosting
baking, cakes, cherry cake, fudge frosting
(170g) cold unsalted butter, cut into pieces
drops AmeriColor gel paste food coloring in Soft Pink
(290g) milk chocolate, chopped, melted and cooled slightly
(150g) dark chocolate, chopped, melted and cooled slightly
Preheat oven to 350F. Grease the bottoms of three 8-inch round cake pans and line with parchment.
In the bowl of stand mixer with paddle attachment, combine the flour, sugar, baking powder, and salt on low speed. (You can also use a hand-held mixer)
Add in the butter one piece at a time. Beat on low speed until all the butter has been incorporated, about 3 minutes. The mixture should have a fine crumbly, cornmeal-like texture.
In a medium measuring glass with a spout, combine half the milk, the cherry juice, lemon juice, and vanilla.
In a separate measuring cup, gently whisk the egg whites and remaining milk.
With the stand mixer on low speed, gradually add the cherry juice mixture, followed by pink food color and beat for five minutes. Scrape the sides and bottom of the bowl with a rubber spatula.
Put the mixer back on low speed and add the egg white mixture in three parts, scraping down the sides of the bowl after each addition. Beat for 1 minute.
Toss the cherry bits in a little flour and gently fold them into the batter by hand.
Divide the batter evenly among the prepared pans.
Bake for 20-25 minutes or until a toothpick inserted into the center is removed with few crumbs.
Let layers cool in their pans on wire racks for 10 minutes. Using a knife, loosen the sides of the cakes and carefully turn them out onto wire racks. Peel off parchment layers and cool completely.
The cake layers will keep wrapped tightly in plastic wrap at room temperature for up to 2 days.
In a bowl of stand mixer fitted with paddle attachment, beat the butter on medium speed until pale and fluffy, about 5 minutes.
With speed on low, and add the confectioners sugar, cocoa powder, coffee, sour cream, vanilla, and salt and beat until incorporated, about 30 seconds.
Increase the speed to medium-high and beat for 2 more minutes.
Add the melted chocolate and beat on medium speed until smooth, about 1 minute.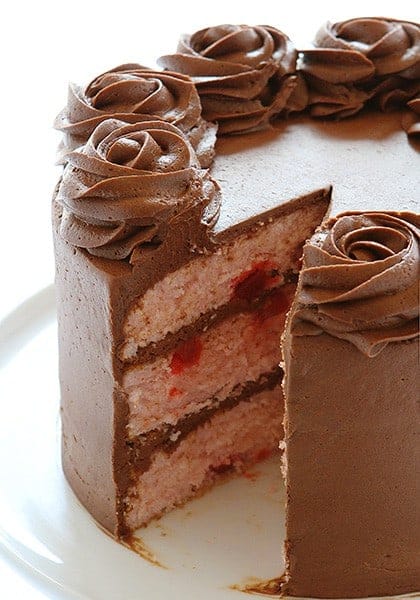 This cake is darling, divine and delish!! I cannot recommend it highly enough.
As well as Rosies book! You simply must get one. I promise you (seriously promise) you will not be disappointed. It is wonderful!
Use the tagYouAreBakerwhen posting a photo of your recipe, and make sure to agram!
Amanda Rettke is the creator of I Am Baker, and the bestselling author of Surprise Inside Cakes: Amazing Cakes for Every Occasion With a Little Something Extra Inside.Over the course of her 15+ year blogging adventure, she has been featured in and collaborated with the Food Network, New York Times, LA Times, Country Living Magazine, People Magazine, Epicurious, Brides, Romantic Homes, life:beautiful, Publishers Weekly, The Daily Mail, Star Tribune, The Globe and Mail, DailyCandy, YumSugar, The Knot, The Kitchn, and Parade, to name a few.
Your email address will not be published.Required fields are marked*
Save my name, email, and website in this browser for the next time I comment.
This site uses Akismet to reduce spam.Learn how your comment data is processed.
This cake is drop dead gorg! I would get this book just to oogle over the pics!
This is so incredibly pretty! Love the layers and contrast of cherry. Mmm
this cake is stunning!!! and wow, love the bakebook blog hop. . what a GREAT idea!!!
What a beautiful cake! Im so looking forward to working through Sweetapolita soon.
Looks so good! Love all her recipes 🙂
Absolutely stunning!!! Love Rosies recipes!
SO pretty! I love Rosies new book!
Made this today. I too didnt see the amount of salt needed in the ingredient list so I just took a wild guess. The cake was good with a fine crumb. I think next time I will add more cherry juice and/or cherry flavoring. I wanted it more cherrier. The frosting was a big hit. Dont be like me and add a little more powdered sugar cause you think its too thin. Let it set for just a little while and it will firm up. This one has great presentation. Its a keeper.
Would this work with some kind of white chocolate fudge icing? How would I make it? Thanks 🙂
I made this cake today, well actually cupcakes, and they turned out great! It yielded 32 standard sized cupcakes, tins filled about 2/3rds full, that domed nicely. I chopped the cherries up into smaller pieces instead of halving like the recipe calls for. I used 20 like the recipe called for, and would probably just use the whole jar next time as there were only 6-7 left after I counted out the 20. I frosted them with a buttercream and chopped up the remaining cherries into the dressing, as well as put about 1 tsp of the cherry juice into the frosting which gave it a nice light pink tint. One omission I noted was the ingredient list didnt have salt in it, but it was called for in the directions, so I added 1 tsp of salt in with the dry ingredients. I will definitely make this cake again, and will try it with the fudge frosting next time.
I just made this fudge frosting but its runny. Is the 1/2C powered sugar correct? Maybe I should add more? Help please.
Its beautiful.. I m just loving it..
What a fabulous cake! Sounds like a cookbook I need.
I made this cake and it turned out beautifully. I would, in the future, add more maraschino cherry juice and probably add almond extract as well as more cherries . Something to pump the cherry flavor. The chocolate frosting was amazing to work with but I felt it over-powered the flavor of the cake. Both are excellent recipes, but I think I would just go with a lighter frosting to bring out the cakes flavor. That frosting could be a stand alone meal in itself, so velvety and delicious!! I may or may not have saved some practice roses for snacking 🙂
Hi. The cake and frosting look super delicious and I m looking forward to making it soon.
I was just wondering whether the hot coffee would make the frosting runny. Should it be cooled and then put in??
Would like to know if there a book out.
I made this cake today. Instead of chocolate frosting, I made a pale turquoise blue frosting and put 1 cherry on top of each dollop on the top perimeter. For me, this cake needed more cherry flavor: maybe more juice, maybe a touch of almond extract? I also found it a bit dry. A superfine tight crumb, but not moist. Pretty though.
What is the replacement of egg whites in this recipe as I am vegeterian so I want this recipe to eggeless and even replacement of sour creme if we replace sour creme there will be any sort of difference???please do reply 😃
For the frosting, I do not like sour cream, can it be omitted or use something else?
i am baker is a national baking and lifestyle website devoted to inspiring women to embrace their inner-baker. Through easy to-understand tutorials, award-winning photography, and an open, raw and inviting writing style, Amanda will show you how to make her drool-worthy Rose Cake and hopefully make you laugh.
Leave this field empty if youre human:
Subscribe to my weekly newsletter to receive the latest recipes, news, and more!
Leave this field empty if youre human:
Easy Orange Cake Pantry Organization
Blueberry Coffee Cake with Crumble Topping
2018 i am baker. Design byLindsay Humes