Vaseline Glass Collectors Inc
I recently received a rare invitation to view a collection belonging to a couple that has collected EAPG since 1960.  This couple collects any EAPG that is unusual, interesting, or to add to a pattern that they collect. They literally have 100+ honey dishes, with multiples by both maker, color and size.  They also enjoy water sets, berry sets, unusual novelty pieces, and a some art glass pieces that strike their fancy.
I spent over 5 hours photographing pieces that caught my eye. My personal interest is in vaseline glass, so I tried to photograph as much of that color as I could.  I also took pictures of other historially significant pieces that just are not seen outside of museums or long-term private collections such as what this couple has collected.
EACH PHOTO can be clicked on for a larger view. Pieces have been identified when they are known.
One of their favorite patterns is PETTICOAT by Riverside Glass. This pattern was made in clear, clear with gold, vaseline, and vaseline with gold. They have collected multiples in each variety/shape.  I took pictures of some of the more rare pieces, but not all of the pieces they own in this pattern.
PETTICOAT: Oil/Salt/Pepper set on tray +molasses jar.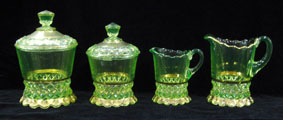 PETTICOAT: outside: regular size Creamer/Sugar; Inside: breakfast size
4 sizes of hats, with and without gold accents.

The ruffled version is an ice cream set, round versions are berry sets.

Water set, celery, straight toothpick, and a rare handled childs mug.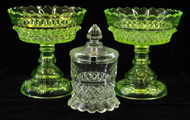 Vaseline (with and without gold) jelly dishes and a clear mustard with lid.

Four spooners:  2nd from right is RADIANT, with Petticoat influence.
MORE RIVERSIDE:  DERBY water set and table set.  The second row is GRASSHOPPER VARIANT with small berry to show size comparison. The ruby flashed sugar bowl is called RIVERSIDES RIVERSIDE, aka: RIVERSIDES NATIONAL.  It is the only ruby flashed set ever made in vaseline glass.
This set is CARNELIAN by Northwood, now generally called
EVERGLADES.  It was opalescent & gold decorated.  These
two photos show the shapes of the berry and water set in the first
photo and the table set in the second photo.
Here is an unidentified water set in Rubina Verde (with palm trees) and a vaseline and blue water set by Kralik:
The bulbous Rubina Verde POLKA DOT water sets (left) was made by Geo. Duncan & Sons.  The way to tell the difference is in the reeded handle.  Duncan and Hobbs both made this shape, but Hobbs used a smooth handle.  The tall narrow tankard on the left is a typical form for Hobbs, Brockunier & Co. ana has a smooth handle.  While this shape is not shown in any illustrations for Hobbs in the Polka Dot pattern, it IS shown in their Coral/Peach Blow colors.
The collection had numerous shapes and colors of IRIS WITH MEANDER by Jefferson Glass Company.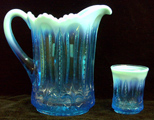 Some more Jefferson Glass items, both are Swag withBrackets:  A table set in blue with gold decor, and two blue pitchers, one gold decor, the other opalecsent.
There are many terms that come to mind when this next piece (ruby and clear dolphin compote) is seen in person:  MASSIVE was one that hit me first.  It was about 14 tall, and the top diameter of the bowl was at least 12. The top bowl connects to the clear satin dolphin with an inset hole on the underside of the bowl, and then plaster of paris was used.  The piece had to weigh at least 5-7 pounds. The maker is unknown.  The person who sold it to the owners was told that it could possibly be Baccarat.  The second photo is of a art glass dish that has a center flower that was made by alternating layers of vaseline and cranberry glass.  It appears to be Czechoslovakia, but was unmarked.  The iridized/pulled decoration vase, followed by the Italian covered compote, are also from unknown makers.
These two pitchers are both Northwood.  The Green opalescent is DAFFODIL, and the Cranberry is Chrysanthemum Swirl.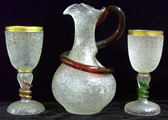 Overshot Champagne pitcher and two goblets, all with snake ornaments attached (maker unknown).
The owners enjoy unusual covered dishes: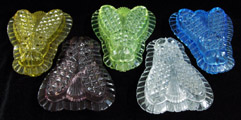 Bryce Bros: all known colors of the Bee(or Fly) covered HONEY, including Amethyst!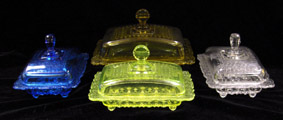 Central Glass: 2 sizes of HONEY and all can be found in blue, amber, canary, & clear.
Jockey Cap Butter & Two Helmet butters, both by King Glass Co.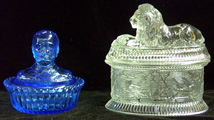 DEWEY BUST by Greentown Glass and MAJESTIC LION covered dish (unknown, circa 1870s).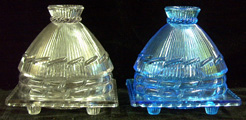 Bee Hive butter dishes by unknown maker.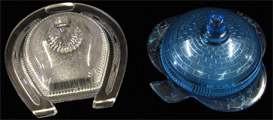 MAUDE S by Ripley, and SHAMROCK FLANGED butter by Bryce Bros.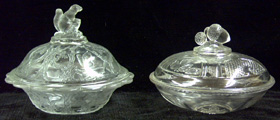 Two novelty finial butter dishes: Squirrel (left) and Acorn (right).  Maker unknown.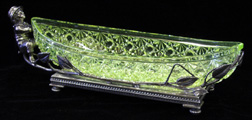 Geo. Duncan & Sons vaseline boat in Wilcox silverplate frame, circa 1880s.

STATUE OF LIBERTY cake plate on standard, by Aetna Glass Co.

This compote features a little boy (in satin finish), clutching the upright standard (maker unknown).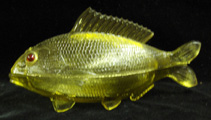 Covered fish dish in amber, by Atterbury Glass, complete with original glass insert eyes.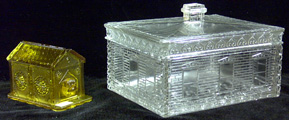 Bryce Dog house in amber and unknown larger covered house in clear glass.
Canton Glass Co. SWAN compote and water pitcher.

The cow top was satin on only the cow portion.  The feet are cow hooves.  Maker unknown.

This covered dish with a grape and grape leaves pattern has a vaseline Daisy & Button insert.

BOAR covered dish (maker unknown). The bottom of dish has an XXX molded into the glass.

WALNUT & FLY covered dish by Vallerysthal.

IRON covered butter (unknown maker) and STOVE castor by Central Glass Co.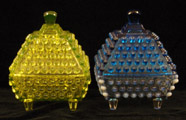 Two LaBelle DEWDROP butter dishes, 2nd one is blue top & rare clear w/ opalescent base.
Until an original RIVERSIDE catalog was discovered in 2000, the original maufacturer of CABBAGE LEAF (aka: Frosted Cabbage Leaf) was not known.  It was originally made as Riversides No. 135 WARE.  One page in that catalog showed several pieces.  The Butter and Celery were both shown, but not the tall compote (next to celery) or the large covered plate, most likely a cheese plate. Any piece in color is rare, and the collection included the Butter in amber.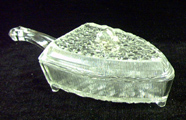 Pie-wedge shaped butter dish with handle, maker unknown.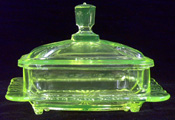 Covered vaseline glass honey dish by unknown maker.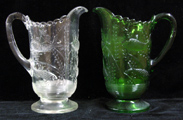 AQUARIUM pitchers in clear and green.  Originally by Ripley, later by U.S. Glass.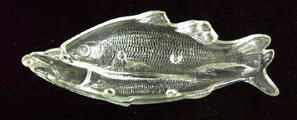 Atterbury FISH PICKLE, Pat. 6/4/1872.  11 long X 4 1/2 wide. most likely European maker, circa 1900s.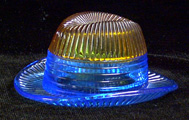 A novelty covered hat in blue and amber (a marriage, but it shows it came in at least 2 colors!).
A few of the LOG CABIN pieces in the collection (Central Glass 748)
The next three items are JUMBO elephants, all by different makers.  The first is a complete table set of JUMBO & BARNUM, distinguished by the Barnum head busts at the base of the handles.  The next covered dish (clear body) is 4 3/8 high and 6 long.  The last JUMBO (satin) is truly a jumbo piece, measuring well over 12 inches tall!  Makers are unknown.

Mavis Swirl in vaseline opalescent by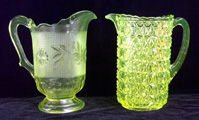 STIPPLED DAHLIA or EMPIRE (McKee) and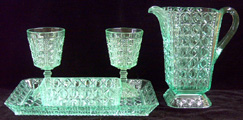 VALENCIA WAFFLE by Adams in apple green:

overshot glass with vaseline rigaree and footed bases.

RAINBOW overshot glass pitcher by Webb Glass, England.
Owl & Pussy Cat covered cheese with matching base.  This dish could hold a cake!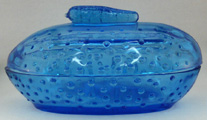 Cucumber covered dish in blue (8 long) by Bryce Higbee & Co., circa 1887.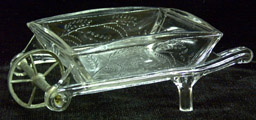 GOOD LUCK large wheelbarrow (with Pewter wheel) by Adams & Co.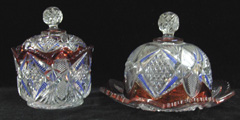 Rare ruby & blue decorated PENNSYLVANIA butter & sugar by U.S. Glass Co.
The SHIELD & EMBLEM (aka: BULLET-EMBLEM) set is historial glass. Most references list it as a Spanish American War souvenir.  The second photo is a close-up of the butter. There was a note in the sugar bowl that was there from the previous owner, stating that it had taken that owner 35 years to assemble these 4 pieces.  No other shapes have been discovered.
A different SHIELD pattern, also a butter dish (maker unknown).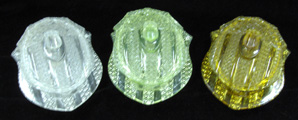 Three colors of the BANNER butter by Bryce Bros.  (Blue was also made.)

Three colors of D&B square butter dishes (maker unknown).

D&B With REEDED HANDLE by Gillinder & Sons (aka: D&B w/ thin bars).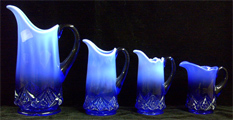 DIAMOND SPEARHEAD (National Glass) in 4 sized, in cobalt or sapphire opalescent.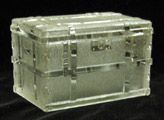 A large TRUNK covered box (unknown maker).

MUSIQUE container by Portieux, commonly called CANNON ON A DRUM, circa 1933.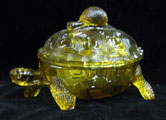 A covered TURTLE dish with a snail finial (unknown maker).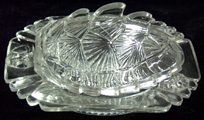 A SEA TURTLE butter dish (maker unknown).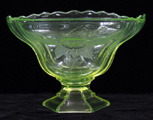 ROSE SPRIG by Campbell, Jones & Co., large compote, 7 tall, 10 top diameter.
And to end on a high note:  While the collection was spectacular, this final photo takes the collection to a whole different level! As was mentioned earlier, this couple is the most fond of honey dishes.  This is a pair of LACY GOTH ARCH AND HEART rectangular honey dishes WITH UNDERPLATES and with both styles of lids that were made!  The one on the left is the DOMED COVER, the one on the right is the STEPPED COVER.  These were both made by Boston & Sandwich Glass Co., circa 1835-1845.  The matching trays are called LACY HEART TRAY and they are the correct trays for these two dishes.  These are shown in the Barlow & Kaiser series on B&S Glass as illustration 3245 & 3247.  They are also shown in Ruth Webb Lees book on Sandwich Glass, plate 168.