from caselogos are manufactured fromautomotive grade polyurethane resin
Frommarine decalstoname badges,computer case buttonsto industrial OEM branding, caselogos manufactures a dome to fit your exact needs.
Our domed decals aretough, butbeautifulandirresistibly touchable!

1 x 1 squareand othercomputer case buttons,automotive nameplates, and other common shapes for easy ordering.


Domed letters, lines and logos.Domed boat numbers, domed names.

Save moneywhen you dont need long term outdoor exposure.
submitcaselogos faqscaselogos site mapCaselogos Domed Decals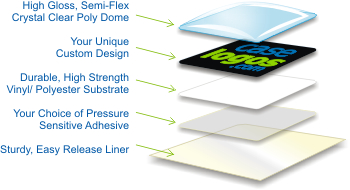 Metallic backgroundforhigh techorindustrialapplications.
More about Metallic Background Domed Decals

When your dome needs to beextra tough.

Eleganthang tags,coasters,ornaments…


Perfect for helping toprotect hand held devicesfrom sliding around

Bumper stickers,window decals,OEM equipment decals,truck decalsand more un-domed decals.

Prices do not include shipping or applicable sales tax. Prices and specifications are subject to change without notice.
The artwork, designs and trademarks imprinted on the products displayed in our web site are reproduced only as examples of the type and quality of the products available.
They are not intended to represent that the products are either endorsed by or produced for the owners of the artwork, designs, or trademarks.
Domed Decals • Domed Labels • Domed Logos • Domed Badges • Logo Domes • Computer Badges
Domes • Bubble Stickers • Computer Buttons • Nameplates…
Whatever you call them -wecall themCaselogosandnobody stickslikeCaselogosBrand Domes
Site map of CaseGrips Non-Slip Domes
Order Today800.579.9362 508.675.2002Sales & Customer Support: